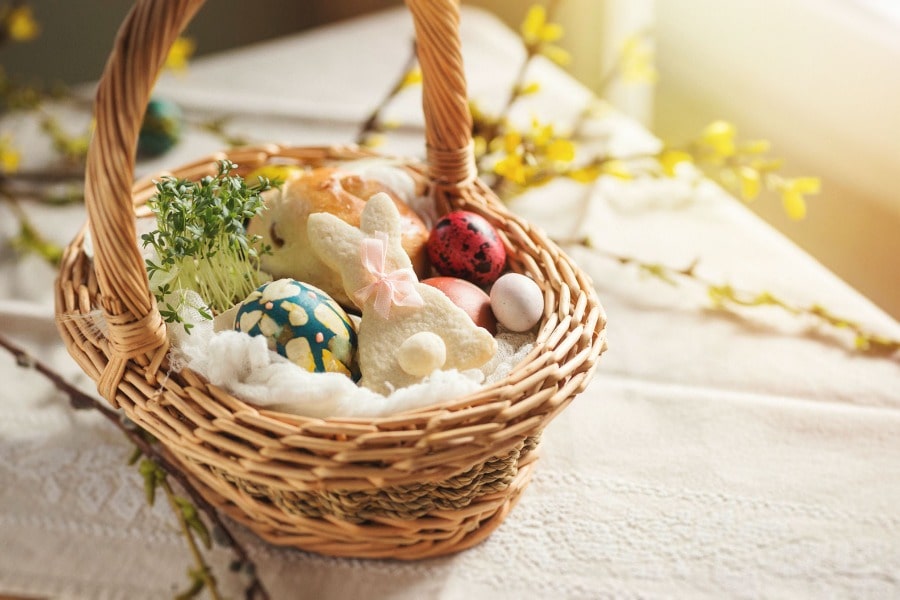 Easter is right around the corner! No matter how you're planning to spend the holiday, either with friends or family, you can incorporate CBD into your Easter celebrations and elevate the experience. Here are some effective and fun ways to incorporate CBD into your Easter celebrations.
CBD Mouth Drops
CBD mouth drops, also known as CBD oil drops, are one of the most convenient and easy ways to enjoy an Easter celebration with CBD. Drop the CBD oil beneath your tongue and let it sit there for up to a minute before swallowing. Once it takes effect, the CBD may help you feel relaxed, getting you ready for any Easter celebration.
No matter how you choose to celebrate Easter, whether it be by going on an egg hunt, watching your favorite Easter movies, or going out to brunch with friends or family, CBD mouth drops are a great way to enjoy the day. Taking CBD mouth drops helps you feel relaxed and at ease throughout the Easter celebration.
CBD Deep Relief Cream
If you know you're going to have an active Easter celebration, CBD deep relief cream may help you relax and recuperate afterward. Whether you and the gang decide to go outdoors, hit the beach, or participate in an intense Easter egg hunt, CBD deep relief cream may help your body unwind and get rid of body discomfort and soreness after a long, activity-filled Easter holiday.
The special blend of the premium-grade, natural healing oils of CBD deep relief cream can help provide relief to you and your muscles after a long day. Simply apply a small amount of CBD deep relief cream to the sore or stiff parts of your body, and you should feel more relaxed and comfortable. CBD deep relief cream is quick-absorbing and may aid with discomfort in the muscles and joints as well as inflammation.
CBD Salve Stick
A CBD Salve Stick may allow you to fully celebrate Easter in any way you choose without experiencing any soreness and discomfort in your body. When spending the holiday with friends and family, using a CBD salve stick is a practical method to apply CBD to skin, muscles, and joints. No matter how long your Easter celebration day is, a CBD salve stick may help your body relax. Whatever Easter activity you choose to partake in, a CBD salve stick is easily accessible to assist in giving you instant relief of any discomfort and even improve joint and skin health.
The CBD salve stick is a special combination of the greatest natural oils that are made to soothe and relax your muscles and may provide intense treatment for all stiffness, discomfort, and inflammation that you may experience after a full day of celebrations. The goal of a CBD salve stick is to help you provide quick relief for every crucial part of your body, such as:
Shoulders
Back
Neck
Feet
Lower back
Knees
Shins
CBD Pet Treats
Pets are part of the family too! Your pet has the right to spend the Easter holiday with you, whether you choose to celebrate Easter outside or inside your home. CBD pet treats can be incorporated into your pet's diet to help with discomfort and anxiety.
Easter celebrations can occasionally get so intense that pets may not comprehend what's going on or be able to follow along, which may cause them discomfort and anxiety. CBD pet treats are ideal for calming down your pets and allowing them to fully participate in the Easter celebration with you, either through Easter egg hunts or just playing in the backyard.
CBD pet treats are carefully designed to be safe for pet consumption. The CBD content is perfectly balanced and the treatments include an organic ingredient to ensure the CBD pet treats are safe for pets to eat.
CBD Beauty Products
Easter celebrations can include more than just Easter egg hunts, brunches, and get-togethers with friends and family. For certain people, holiday celebrations can also be an opportunity for self-care and me time. If you want to celebrate Easter by relaxing and treating yourself to a hot, steaming bath or a massage, there are many CBD beauty products you can use to improve the experience. Examples of CBD beauty products include:
CBD bath bombs

De-stress bath bombs
Relaxing bath bombs
Sleepy bath bombs

Essential oil roll-on
CBD massage oil
CBD shampoo and conditioner
Serum
Eye rescue cream
Using CBD beauty products that not only improve your skin, hair, and beauty but also help to calm your mind and relax your muscles may allow you to experience the finest self-care Easter celebration.
HOH: Your One-stop Shop for CBD Products Needs
HOH is a top-ranked supplier of all-natural CBD products with guaranteed quality and demonstrated efficacy at reasonable rates. We strive to educate the public about the wellness advantages of CBD. No matter how you want to celebrate Easter, include CBD products from HOH to have the best CBD Easter celebration possible!
At HOH, we offer high-quality CBD products such as gummies, creams, salve sticks, drop oils, and many other CBD products that may meet your needs and be the solution that you are looking for. HOH offers the perfect product for you if you want to feel better, look younger, have more energy, perform at your best, get a good night's sleep, or maintain optimal health — not just this Easter but for the rest of your life.
Disclaimer
The products on this site are not for use by or sale to persons under the age of 21. Furthermore, they should be used only as directed on the label, and should not be used if you are pregnant or nursing. Always consult with a physician before use if you have a serious medical condition or use prescription medications. In general, a doctor's advice should be sought before using this and any supplemental dietary product. Finally, all the statements on this site have not been evaluated by the FDA, nor are they intended to diagnose, treat, cure or prevent any disease.