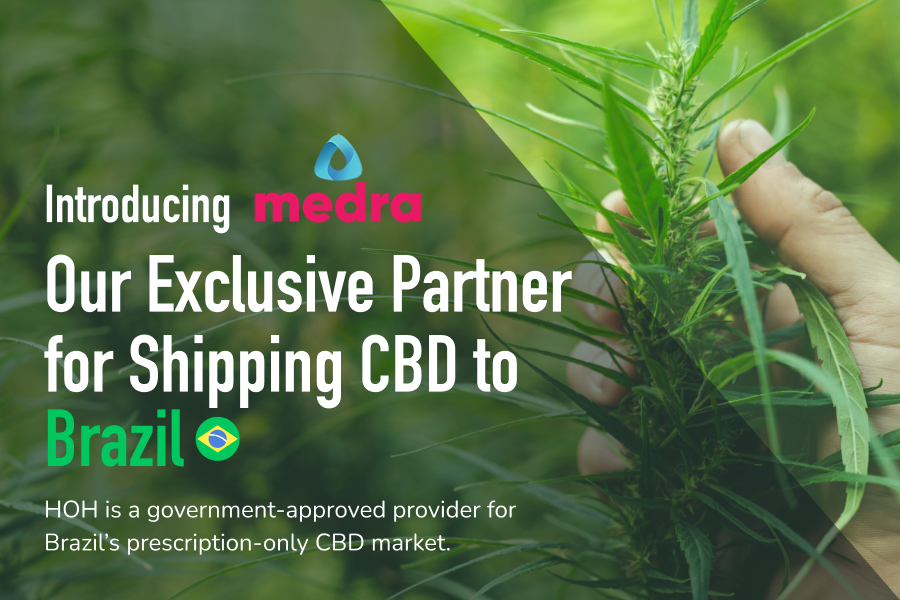 Our commitment to quality has earned us notoriety and partnership with other pioneers in the CBD health world—namely, MEDRA BRASIL.

Allow us to highlight the reason this is significant.

MEDRA BRASIL is a Brazilian medicinal company representing and prescribing premium quality cannabidiol products. Like us, MEDRA is committed to strict quality assurance. Furthermore, the country of Brazil has incredibly stringent regulatory parameters for CBD, so much so it requires a physician's prescription to administer.

MEDRA's mission aligns with ours: To provide high-quality products to the Brazilian market and actively de-bureaucratize access to treatment and promotional information about CBD while connecting physicians and patients to ensure continuity of treatment.

In our partnership, our root-to-retail control processes that begin from planting and go through extraction, formulation, and packaging convey directly to the country of Brazil and Medra's quality.

Why?
It is our farm and our processes every step of the way. Therefore, our quality assurance processes maintain consistency and, in our case, cut out any middleman that might not have the same commitment to optimal compliance and excellence. Besides the third-party testing conducted at every step of our process (which we wholeheartedly embrace), our process flows seamlessly, offering optimal quality congruence. It's a win-win in which we take great pride. It has paid off for us as a company while helping us move the needle and inspire the entire CBD industry to invest in higher quality standards.
"More than a year ago, we were tasked with locating the best supplier for an exclusive partnership for CBD to be prescribed within the Brazilian market. It was a very tall order for one entity to fulfill; the highest quality farm, stability in processes, and purity of product, to name a few," states Fábio Mariano, Head of Sales for Medra Brasil.

"After a six-month search, we located HOH, who met all of our criteria and more.

We now have a strong and trusted partnership with a professional organization that puts quality as its main focus, and we are grateful to call HOH our partners."

Moreover, as the exclusive CBD supplier to MEDRA, HOH CBD has completed the first phase of a rigorous certification process through ANVISA.
ANVISA is the Brazilian Health Regulatory Agency (Anvisa) linked to the Ministry of Health, part of the Brazilian National Health System.
ANVISA's role is to protect the Brazilian population's health by overseeing and assuring the execution of product control and health regulations relative to the ingredients, technologies, and use of healthcare products and services.

In a nutshell, Brazil highly regards the standards by which we run our company and execute our CBD processes. The fact that each step in our process involves third-party testing is also a rarity in most U.S. CBD companies and another reason we are now supplying products to Brazil via MEDRA.

Lastly, though its focus is on health, MEDRA sees the value in a company capable of supplying premium products in all areas of wellness, beauty, relief, relaxation/sleep, and even pets.
As stated, at HOH CBD, we believe that any product that goes into or onto our bodies deserves to entail the highest quality CBD as a vital ingredient for living our best, healthiest, and most fulfilled lives.

For more factual and fun information, please scroll down below this post and sign up for our monthly newsletter.

Disclaimer
The products on this site are not for use by or sale to persons under the age of 21. Furthermore, they should be used only as directed on the label and should not be used if you are pregnant or nursing. Always consult a physician if you have a serious medical condition or use prescription medications. A doctor's advice should be sought before using this and any supplemental dietary product. Finally, all the statements on this site have not been evaluated by the FDA, nor are they intended to diagnose, treat, cure, or prevent any disease.