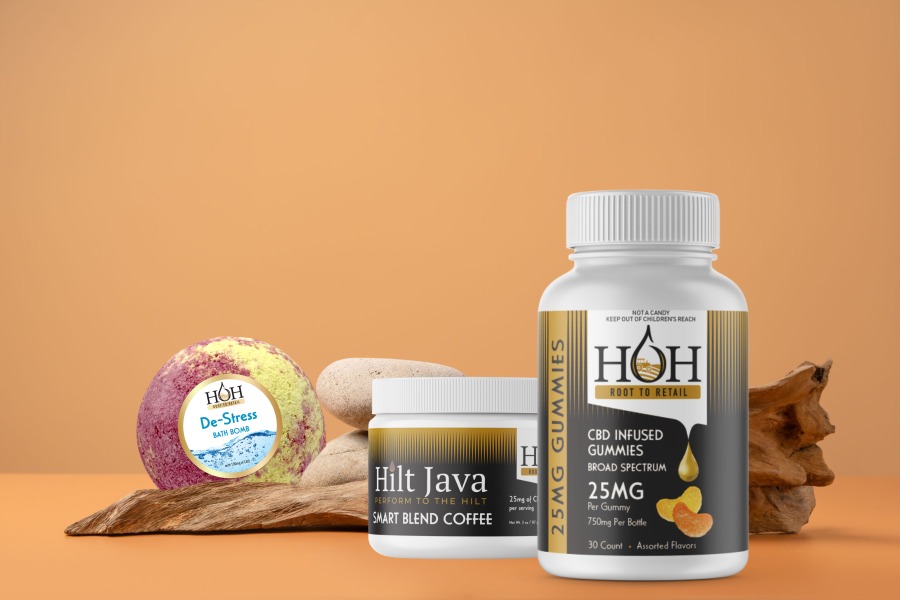 The CBD industry has experienced remarkable growth in recent years, fueling a surge of innovation in product development. As research on CBD's potential wellness benefits continues, companies like HOH CBD are pioneering new formats and applications to cater to a broader range of consumer needs. In this blog, we'll explore some of the innovative CBD products that are making waves in the market.
CBD-Infused Beverages
In a quest to make CBD consumption more convenient and enjoyable, companies have introduced a variety of CBD-infused beverages. From CBD coffee that may help kickstart your morning, to refreshing CBD-infused sparkling water, these beverages provide an easy way to incorporate CBD into your daily routine. Looking to try it out? Check out our Hilt Java Smart Blend Coffee!
CBD Bath Bombs
Imagine soaking in a hot bath that may not only help relax your muscles but also provides the potential wellness benefits of CBD. CBD-infused bath bombs are crafted with this vision in mind, promising a soothing bathing experience. When the bath bomb dissolves in water, it releases CBD, along with essential oils and fragrances, potentially turning your bath into a spa-like retreat.
CBD-Infused Edibles
Edibles have been a popular way of consuming CBD, but the market has evolved beyond the typical gummy bears. Now, you can find a wide variety of CBD-infused edibles, from chocolates and honey sticks to cooking oils and even popcorn. These products offer a tasty and discreet way to enjoy the potential benefits of CBD.
CBD Patches
Taking inspiration from nicotine and hormone patches, CBD patches provide a unique method of CBD delivery. When applied to the skin, the patch slowly releases CBD through the skin and into the bloodstream over a specified period. These patches may offer a convenient and long-lasting method of CBD delivery, particularly suitable for those seeking consistent CBD levels throughout the day.
CBD Pillowcases
In the realm of CBD innovation, even bedtime hasn't been overlooked. CBD-infused pillowcases have hit the market, offering a novel way to potentially benefit from CBD. The theory is that as you sleep, your skin will absorb the CBD infused into the fabric, promoting a restful night.
Conclusion
The CBD market continues to evolve, with creative, innovative products continually emerging. It's an exciting time for CBD enthusiasts, with more choices and methods of consumption available than ever before. While CBD may offer potential benefits, it's essential to consider product quality and consistency when choosing CBD products.
At HOH CBD, we pride ourselves on offering a wide variety of high-quality CBD products, all derived from locally grown hemp and rigorously tested for quality and purity. Whether you're a long-time CBD user or just starting your journey, we're here to help you find the products that best suit your lifestyle and wellness goals. Remember to consult with a healthcare professional before starting any new wellness regimen.
Disclaimer
The products on this site are not for use by or sale to persons under the age of 21. Furthermore, they should be used only as directed on the label, and should not be used if you are pregnant or nursing. Always consult with a physician before use if you have a serious medical condition or use prescription medications. In general, a doctor's advice should be sought before using this and any supplemental dietary product. Finally, all the statements on this site have not been evaluated by the FDA, nor are they intended to diagnose, treat, cure or prevent any disease.